Continuing Certification (CC/MOC) for ABPN Diplomates
All American Board of Psychiatry and Neurology (ABPN) board certified psychiatrists need to fulfill Continuing Certification (CC), formerly MOC, requirements. These requirements consist of four parts:
ABPN no longer accepts CME credit reporting for non-self-assessment and non-PIP activities. Your AAAP CME certificate(s) and/or transcript can be used should you need to provide proof of CME credit earned.
MOL for Healthcare Professionals
Physicians and health care professionals can maintain their licenses by obtaining credit through participation in a variety of AAAP activities. View a list of all AAAP's continuing education activities.
Continuing Professional Development
AAAP has been an accredited provider of continuing medical education since 2014. In December, 2018, AAAP was awarded joint accreditation from Joint Accreditation for Interprofessional Continuing Education (JAICE)™. Read the press release.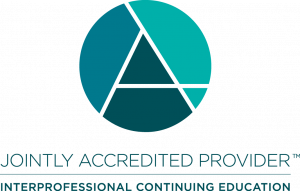 In support of improving patient care, American Academy of Addiction Psychiatry is jointly accredited by the Accreditation Council for Continuing Medical Education (ACCME), the Accreditation Council for Pharmacy Education (ACPE), and the American Nurses Credentialing Center (ANCC) to provide continuing education for the healthcare team.
In 2019, AAAP also added accreditation from The American Academy of PAs (AAPA), American Psychological Association (APA) and Association for Social Work Boards (ASWB).
Joint Accreditation for Interprofessional Continuing Education™ establishes the standards for education organizations to deliver continuing education planned by the healthcare team for the healthcare team and offers AAAP the ability to designate continuing education credits to physicians, nurses and pharmacists. The accreditation was awarded for six years, the maximum allowed by JAICE, and is current through November, 2024.
Jointly accredited providers are entitled to award Interprofessional Continuing Education (IPCE) credits. This innovation promotes interprofessional continuing education (IPCE) that leads to improved healthcare delivery and better patient outcomes, a tenet AAAP is passionate about. AAAP's CPD program and educational activities meet rigorous standards for education, evidence-based medicine and scientific quality and independence.